National Handbag Day Oct 10
It's National Handbag Day
What's in your handbag?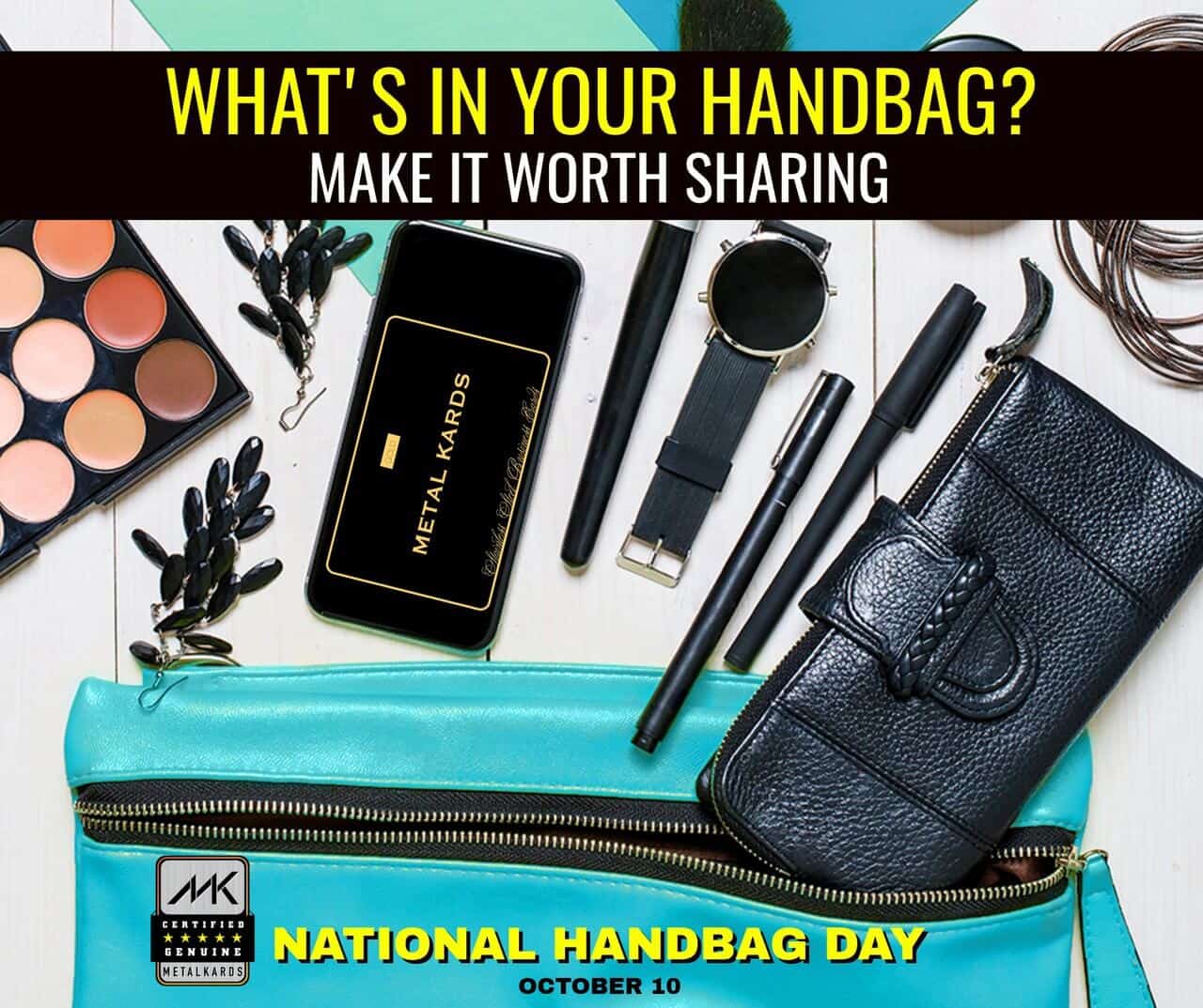 Make it worth sharing, worth talking about. Make it a Metal Kard.  A lot of people ask why we make business cards. Who even uses cards anymore, isn't the world digital? Do you touch cellphones and bleep bleep your contact info, or just give out your cellphone number?
The truth is, people still love art. That's why we make Stainless Steel Business Cards. It's something to care about, and useful. The tool with all the contacts, all the infos. You on twitter? Yeah, it's on my Metal Kard.


THE BEST SELLING
NETWORKING DEVICE
TIMELESS QUALITY WINS
SET THE FIRST IMPRESSION
SEE PRICING
It's engraved in stainless steel?
Yep. It's written in steel, it's permanent. That's my phone number, and it's here to stay.
What's National Handbag Day, anyway?
It's a day to be remembered, and honored. Or it's just a website's ploy to get you to buy things. We think it's a bit of both, but we did find it on a website. It showed up on Google, so it's got to be True. Apparently it was started by PurseBlog.com in 2012 and is celebrated by doing the hashtag #nationalhandbagday – but all we know, is that a Metal Business Card is the perfect accomplice. Maybe we'll start Metal Business Card day, and make it every day.
When we make Metal Kards, we use quality stainless steel along with precision etching, cutting, and silkscreen printing. Unlike paper cards, there is a huge difference in the manufacturing quality of stainless steel cards – To put an order or if you have questions please contact us today at (866) 314-5273 (KARD).
https://metalkards.com/wp-content/uploads/2017/10/NationalHandbagDay-Oct10-MetalKards.jpg
1073
1280
kardsmetal
https://metalkards.com/wp-content/uploads/2022/06/logo-horz-mkBanner-Nav03.png
kardsmetal
2017-10-10 16:14:19
2022-08-02 18:57:13
National Handbag Day Oct 10