Bonus Metal Cards for Easter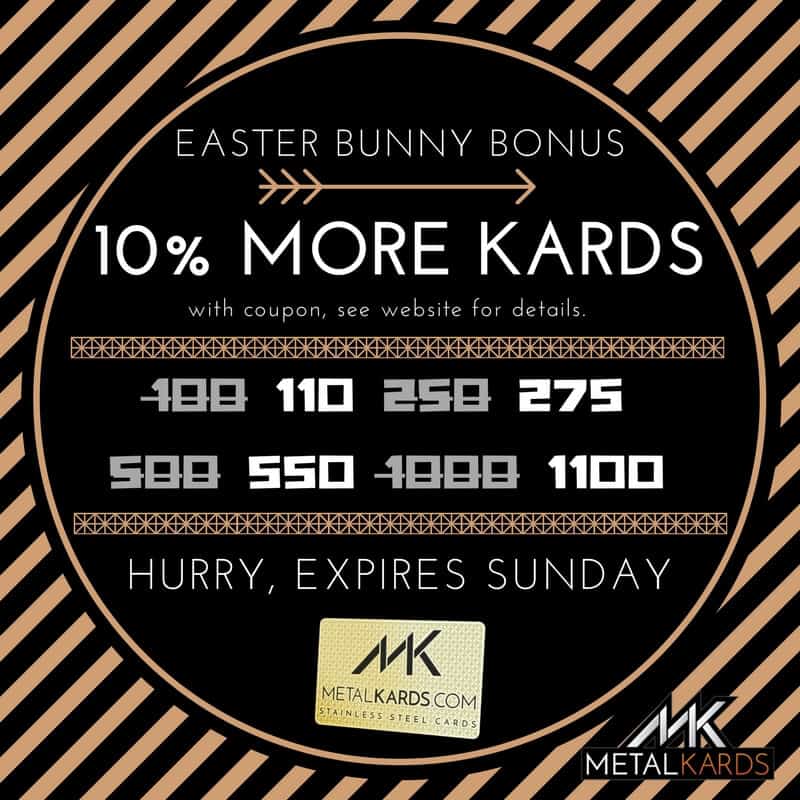 Easter Bunny Bonus Metal Cards!
Metal Kards generate more response, for a limited time get More, Free.
While the exact origins of the Easter Bunny is unknown, one thing is sure – he's as memorable as our Metal Kards. Your first impression with a company or individual is absolutely important. There are no 2nd opportunities at an excellent impression. This is why we produce stainless steel business cards. The very first time you hand one out, you'll be happily surprised by the appearance of shock and awe by your prospect. It goes without saying, many people will ask "Where did you get these?!" You will certainly see the distinction in their mannerisms as your clients take a look at your card. They in fact look it over when you provide it to them, rather than just placing it in their pocket. Stand out from everyone else and be distinct!
Because of the wonderful feedback we've had from Metal Kards– we're supplying a wonderful bonus to begin your success. In a day and age where print products are hit-or-miss, these are the ruby in the ruff for offline marketing. Let's face it, usually a business card is discarded, wrinkled and folded up as well as neglected– but showing your appreciation for craft and high quality, Stainless Steel Business Cards are held onto, checked, and saved for a life time. Today, we're offering a special on bonus metal cards.
Metal Business Cards are the Perfect Networking Tool
Are you going to a tradeshow? These metal business cards are a "best of" at tradeshows. Your potential clients will absolutely talk with a huge amount of individuals at a tradeshow, so you should be memorable. Many will fail to remember the lightweight plastic pens and other discount products – our metal cards are around the same price or less and yet far more effective.
A metal business card is also scratch and fade resistant, and since they're made from real stainless steel they won't corrode or rust and keep their shape for years ahead. Quality finish, matched with distinct silkscreen, and one of the most innovative card styles on the market. Metal Kards has your back on with the highest quality Metal Business Cards.
Metal Cards are an excellent option for any kind of market, any type of company seeking higher ROI, particularly for networking experts.
If you're seeking the most effective Company Cards, take into consideration genuine stainless-steel Metal Kards, with our special Bonus Metal Cards. But hurry, expires Sunday 04/16/17
* Coupon required and valid on retail orders ony, not combinable with any other offer. Please ask for limitations as well as details.


THE BEST SELLING
NETWORKING DEVICE
TIMELESS QUALITY WINS
SET THE FIRST IMPRESSION
SEE PRICING
https://metalkards.com/wp-content/uploads/2017/04/Bonus-Metal-Cards.jpg
800
800
kardsmetal
https://metalkards.com/wp-content/uploads/2022/06/logo-horz-mkBanner-Nav03.png
kardsmetal
2017-04-13 12:19:37
2022-08-24 12:54:53
Bonus Metal Cards for Easter