Cigar Lounge Membership Cards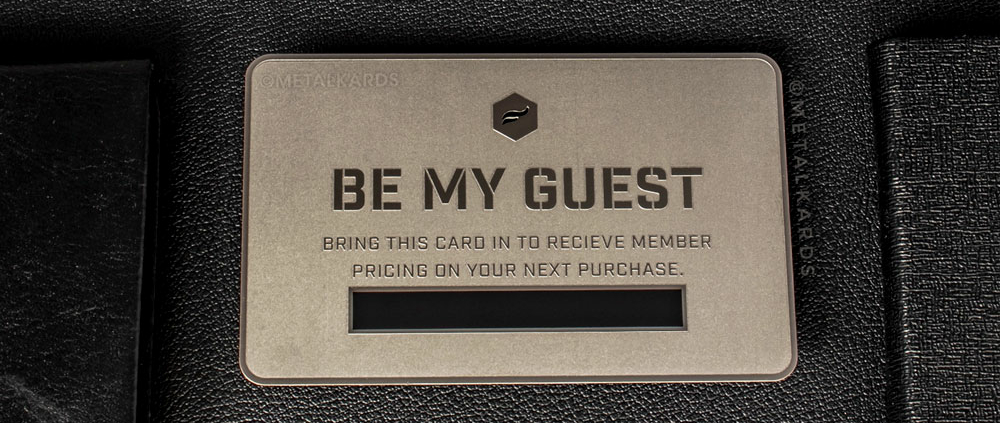 CUSTOM Cigar CLUB Membership Cards
Evolve Your Cigar Enthusiast Membership Club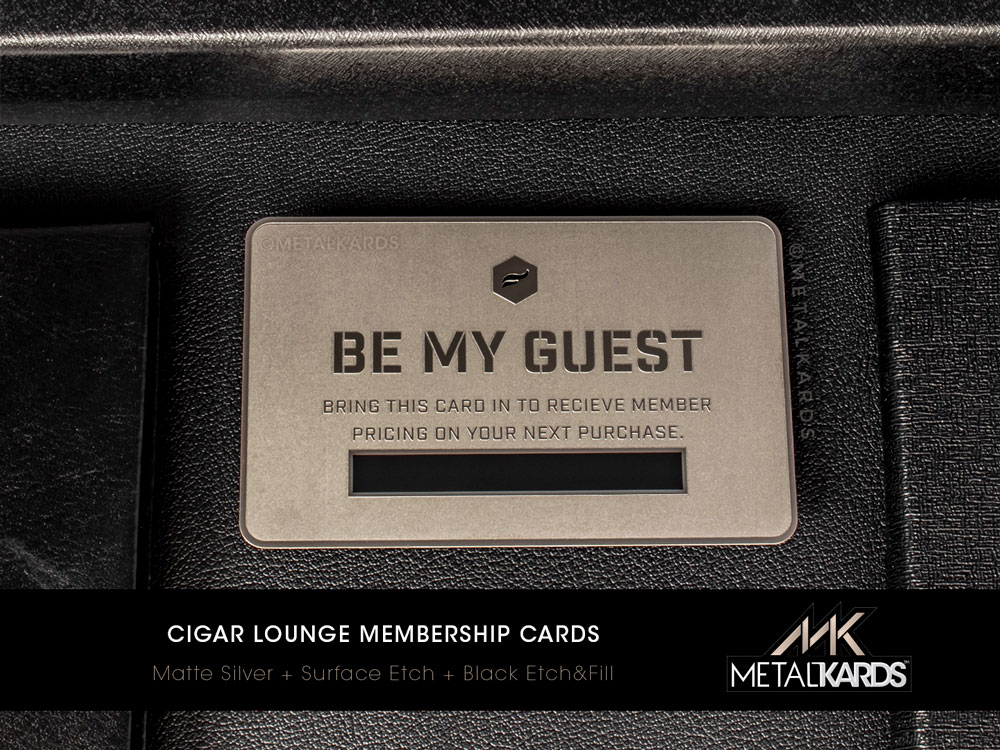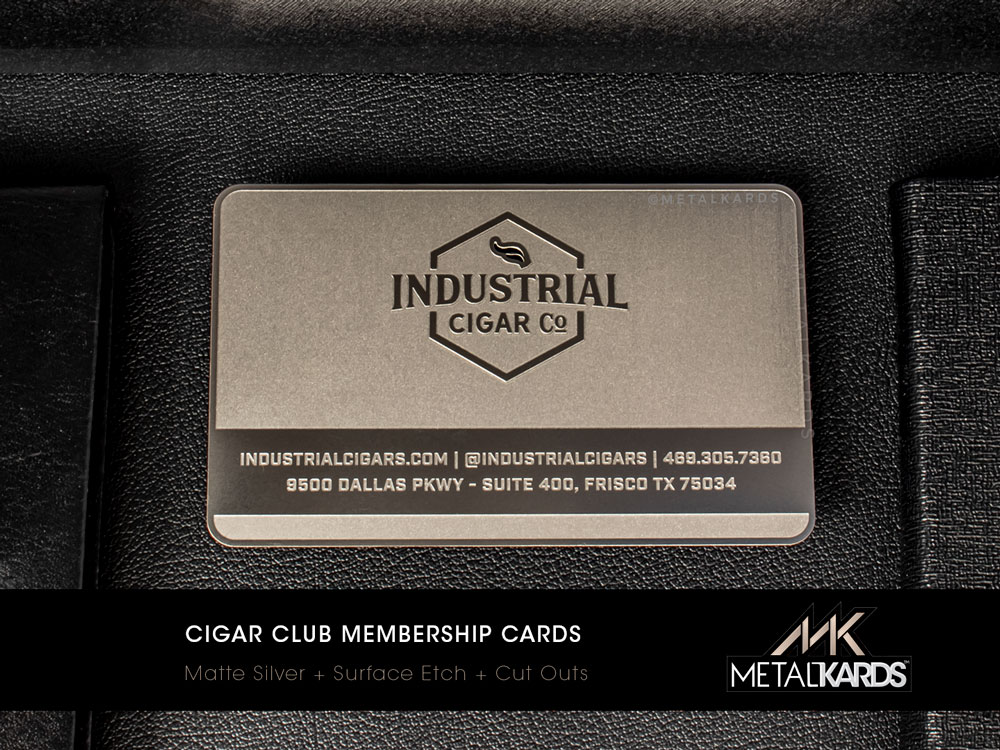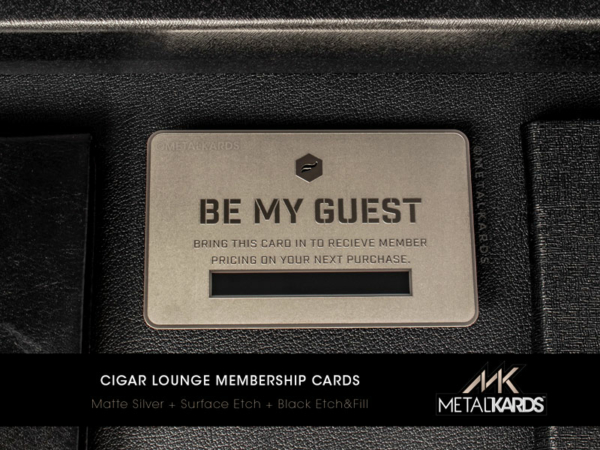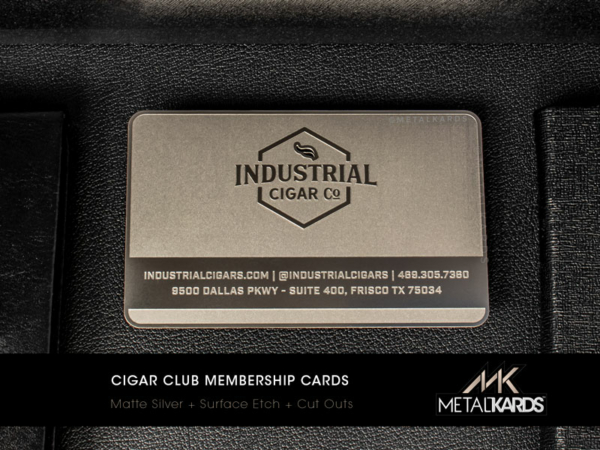 Cigar Lounge Membership Cards
Featuring Custom Cut Outs, Black Printing and Surface Etching
Striking Cigar Lounge Metal Membership Cards
Having a membership card at a cigar club or lounge can enhance your overall experience and provide you with exclusive benefits. The advantages of owning a membership card at a cigar lounge can be great for connoisseurs – including personalized service, discounts on cigar purchases, access to members-only events, and complimentary cigars. What better reason to give them a membership card made of metal!
Please Present Membership Card Upon Entry
When you have a membership card at a cigar lounge, it serves as your ticket to enter the establishment. Most lounges require their patrons to present their membership cards upon entry to ensure that only authorized individuals are granted access. This provides an added layer of exclusivity and security for both members and the establishment. When your card-carrying members have Platinum Cards in their wallet, what if your cigar club card was even nicer?
Cigar Club Personalized Service
A major benefit of having a membership card is receiving personalized service from the staff at the cigar lounge, or online your cigar club can give exclusive access to deals, communities, pricing and more. The staff recognizes you as an esteemed member and takes note of your preferences in terms of seating arrangements, beverage choices, and preferred brands or blends of cigars. This level of attention creates an enhanced customer experience tailored specifically to your tastes.
Discounts on Cigar Purchases
Owning a membership card often comes with significant discounts on all purchases made within the lounge. These discounts may apply not only to individual cigars but also to accessories such as cutters or lighters. Over time, these savings can accumulate significantly for frequent visitors who regularly indulge in premium cigars.
Members-Only Events
Cigar lounges often organize exclusive events that are only open to members. These events can include cigar tastings, pairing sessions with fine spirits, educational seminars on the art of cigar making, or even visits from renowned industry experts. Attending these members-only events allows you to expand your knowledge and network with fellow enthusiasts in an intimate setting.
You can have exclusive collectors edition metal cards for special events and limited releases.
Complimentary Cigars
Some cigar lounges offer complimentary cigars as a perk for their valued members. This could be in the form of a monthly allocation of cigars or occasional special promotions where members receive free samples of new and limited edition releases. Having access to complimentary cigars is not only cost-effective but also provides an opportunity to try different brands or blends without having to make additional purchases.
Stand Out with Metal Membership Cards for Cigar Clubs
Are you a member of an exclusive cigar club looking for a distinctive way to showcase your membership? Metal membership cards for cigar clubs are the perfect solution. These cards, made of durable metal, exude elegance and sophistication, making them a must-have for discerning cigar enthusiasts.
Why Metal Membership Cards?
Crafted from high-quality stainless steel, these membership cards embody strength, resistance to wear, and overall durability. Their weight and solid construction surpass that of traditional paper cards, ensuring a lasting impression. Whether you're using them as membership cards, VIP passes, or metal gift cards, these metal cards are guaranteed to leave a mark!
What Sets Metal Membership Cards Apart?
Our base is medical grade 304 stainless steel, which naturally is a sleek matte silver finish. However, we go the extra mile to make your cards truly unique. Using top-notch enamel silkscreen ink, we can apply colors of your choice to complement your club's branding. You can also choose from over a dozen plated finishes to give your card that gold, copper, black or other colored finish. We can even match specific colors through the Pantone® Matching System (PMS). We even have metallic inks like gold, copper, and silver, ensuring your designs will come to life!
Emphasizing Texture with Etching Techniques
We take pride in our craftsmanship and offer complimentary standard etching, cutting, and one silkscreen color with every order. For an even more captivating effect, we provide surface etching and deep etching. Surface etching is a chemical engraving process that etches into approximately 10% of the card surface, resulting in a unique stainless steel appearance. Deep cut etching goes further, reaching around 50% depth, making a bold and unforgettable statement. These techniques are distinct from laser etching, which merely marks the surface without creating depth.
MetalKards™ Techniques: Etch+Fill Printing
Our innovative Etch+Fill printing technique combines surface etching with silkscreen color inlay. This not only ensures long-lasting and reliable printing but also adds a tangible depth to your cards. It's important to note that with this technique, we can only etch+fill one color at a time. If you desire multiple colors, a safety margin gap is necessary to prevent ink bleeding into the recessed areas.
Why Choose Metal Membership Cards for Your Cigar Club?
By incorporating a rich, solid background color, you enhance the aesthetic appeal and memorability of your membership cards. Take, for example, our transformation of natural matte silver stainless steel into this captivating membership card. The customization allows you to reflect your cigar club's persona and core values. With nearly limitless color options, our PMS enamel silkscreen can achieve much greater colors than CMYK on paper cards.
Moreover, stainless steel membership cards offer unmatched durability compared to their paper counterparts. They are built to withstand the test of time, ensuring longevity and resistance to wear and tear. With metal cards, you won't have to worry about frequent replacements, saving you both time and resources.
Designing Your Own Metal Membership Cards
Designing metal membership cards is a breeze. You can either create your own designs using a vector design program or take advantage of our Design Package, which allows you to collaborate with professional designers. Remember to incorporate essential contact information and capture the unique identity of your cigar club. If you opt for professional assistance or prefer the DIY approach, our Metal Kard Design Template is a valuable tool to guide you through the design process.
Order Your Metal Membership Cards from MetalKards™
If you're a member of a cigar club seeking to stand out among fellow enthusiasts, metal membership cards are the ultimate choice. Not only do they exude sophistication and durability, but they also provide a platform to showcase your cigar lounge, cigar bar, cigar club or smokers lounge.
A Must-Have Tool for Your Cigar Lounge or Cigar Club
Cigar Lounge Membership Cards are a crucial marketing instrument for any creative professional aficionados aiming to establish their brand and attract new clients. Set yourself apart from the competition, and gives your members something they REALLY want.
The Evolution of Membership Cards
Long gone are the days of basic, plastic membership cards. Stepping into the new era, where elegance meets technology, we're witnessing the rise of a shimmering trend – the metal membership card. Offering an unbeatable blend of style, durability, and exclusivity, metal cards have carved a unique niche in the cigar lounge culture.
Decoding the Charisma of Metal Membership Cards
If there's one thing that stands the test of time, it's metal. Substantially heavier than their plastic counterparts, these metallic cards echo an unspoken promise of premium service. Holding a metal membership card of your favorite cigar lounge communicates an elite status, something that ordinary plastic cards can hardly match. It's a testament to your devotion, and a symbol of belonging to an exclusive fraternity.
The Allure of the Cigar Lounge: More than just Smoke
Cigar lounges are not just smoke-filled rooms where aficionados puff on their favorite sticks. It's a sanctuary, a retreat that connects people across different walks of life through their shared love for cigars. Owning a metal membership card at such a lounge signifies the camaraderie, tradition, and the profound enjoyment of a well-aged tobacco blend. Each time you reach for your card, you're reminded of these shared moments, making the experience ever more personal.
Debunking Common Misconceptions: Metal Cards Aren't Just for Show
For those new to this trend, it's easy to dismiss metal cards as mere status symbols. However, they carry a range of benefits. Enhanced durability, for instance, ensures they survive the rigors of daily use, with no fear of bending, snapping, or losing the printed information. Also, they can bring various privileges such as special discounts, invites to exclusive events, and priority bookings.
The Joy of Customization: Craft Your Statement
Unleash your creativity with the versatile designs of metal membership cards. From sleek monochrome finishes to intricate etchings and personalized inscriptions, these cards let you express your individuality. Certain lounges also allow you to select your membership level, which we can easily make cards of different plating for higher ups, adding an extra layer of personal touch. As you pull out your distinctive card, it resonates with your style, setting you apart from the crowd.
Your Eco-friendly Choice: Metal over Plastic
In an era where sustainability is paramount, choosing a metal card makes a clear statement. They are recyclable and can last for years, reducing the need for frequent replacements. Every time you flash your metal card, you're not just flaunting your membership; you're also demonstrating your commitment to environmental responsibility.
Metal Kards : Striking the Perfect Note
In essence, cigar lounge metal membership cards strike a harmonious balance between prestige, function, and environmental consciousness. They are your passport to a world of exclusivity, a token of camaraderie, and a symbol of your unique identity. So, as you ignite your cigar, relish the rich flavors, and delve into fascinating conversations, remember that your metallic card plays a crucial role in crafting these unforgettable moments. After all, isn't that what being part of an exclusive lounge is all about? Echoing your style, your commitment, your passion – it's a metallic symphony of experiences.
At Metal Kards, we love a quality stick!
Owning a membership card at a cigar lounge offers numerous benefits that enhance your overall enjoyment and experience. From personalized service tailored specifically to your preferences, discounts on cigar purchases, access to exclusive members-only events, and receiving complimentary cigars – having a membership card elevates your status as a discerning aficionado. Let us make an award winning membership card for your club!
We're in Denver, Colorado and winters especially we enjoy a good smoke by the fire, in the snow – We're home to Palma Cigars, locally hand rolled Dominican Republic cigars in a wide range including an exclusive line made for the Denver Broncos®. We love to support Palma's lounge – staff favorites also include A.J. Fernandez, Tatuajae, C.A.O., My Father, Padrón, Foundation, and plenty others to list! Thankfully, we have some great locally made whiskey to match!
Want to get your own custom Cigar Lounge Membership Cards?
Easily build in our cart – Order Silver Metal Cards.

Frequently Asked Questions (F.A.Q.)
Answers for Cigar Lounge Membership Cards
Metal Membership Cards will make your Cigar Lounge stand out.
Get the best in business, today.
– the most FREE options included
– in-house professional design team
– Fast shipping from Denver, CO
Order Stainless Steel Cards
The Perfect Solution for Cigar Memberships
FREE Plastic Protector Sleeve on Every Card

FREE Custom Shape & Cut-Outs
https://metalkards.com/wp-content/uploads/cigar-lounge-membership-card-1000x750-1.jpg
750
1000
kardsmetal
https://metalkards.com/wp-content/uploads/2022/06/logo-horz-mkBanner-Nav03.png
kardsmetal
2023-07-27 23:59:55
2023-07-28 00:57:12
Cigar Lounge Membership Cards