3 Color Stainless Steel Cards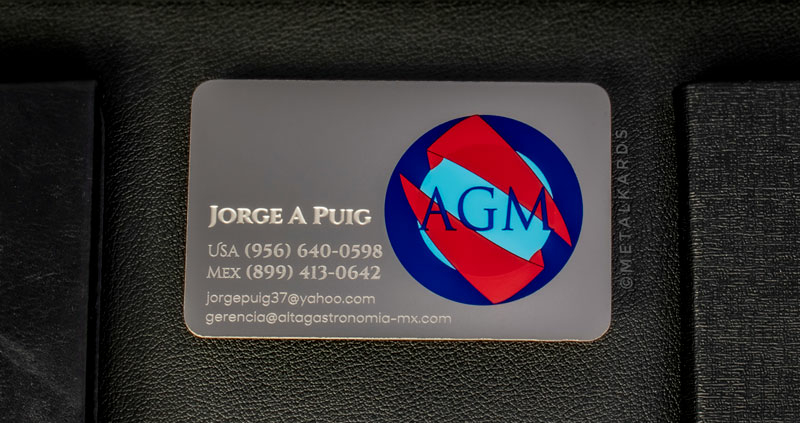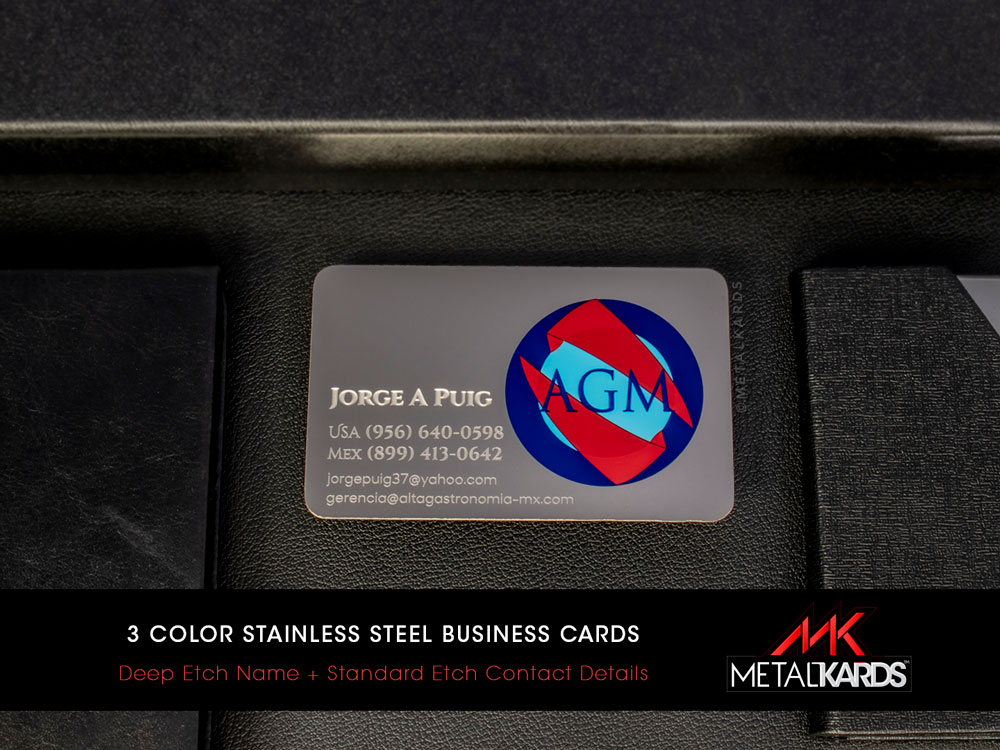 3 Color Stainless Steel Cards
Featuring Deep Etch + Standard Etch + 3 Color Silkscreen Printing
Want to get your business cards on Matte Silver Metal Cards? Easily build in our cart – Order Silver Cards.
Shine Bright with 3 Color Stainless Steel Business Cards
If you're looking for a unique and eye-catching way to introduce yourself or your business, consider getting stainless steel business cards. These cards are ultra durable, with a sleek and professional look. With three color silkscreen, standard etching and our deep etching, you can make an even bolder statement with your business.
What are Stainless Steel Business Cards?
Metal business cards are exactly what they sound like – business cards made of stainless steel. This material is known for its strength, durability, and resistance to corrosion. Stainless steel cards are also thicker than regular paper cards, making them stand out in a stack of cards. The perfect solution for membership cards, metal gift cards, VIP cards and more!
What are 3 Color Stainless Steel Business Cards?
Traditionally, stainless steel business cards are silver in color. We then use an ultra-durable silkscreen ink, like paint, to print on these cards in any color you can imagine. We can even use the Pantone® Matching System or PMS colors to match your company or brand trademarks. These cards are created using a special process that allows up to three different colors to be applied to one card, or we can print even more colors if you'd like. This means you can have a card with a silver base, but with red and blue accents, like this card for example. We can even print metallic inks such as gold, copper and silver!
What is surface etching and deep etching?
Our signature look and craftsmanship of our cards include FREE standard etching, cutting, and 1 color of silkscreen with every single order. Of course, there are additional processes such as our deep etching that we can use to make a bigger statement. Our surface etching is a chemical engraving process that cuts into the surface of the card approximately 10% which gives a very nice look in the stainless steel. Our deep cut etching is the same engraving process done in multiple passes to cut even deeper into the card – approximately 50% depth to stand out like nothing else! Both processes are different from laser etching, which is a surface marking technique and does not create depth into the card.
What is Etch+Fill Printing?
We combine our process of standard surface etching, and then inlay the silkscreen color to this part of the cards, to both hold the ink for long-lasting and dependable printing AND create a look of depth you can see and feel. With this process, the one note is we can only etch+fill one color touching at a time – with multiple colors we do need a safety margin gap so the inks do not bleed in the recession.
Why Choose 3 Color Stainless Steel Business Cards?
Having three colors on your business card can make it more visually appealing and memorable. It can also help to convey your brand's personality and message. For example, if you're a company that specializes in eco-friendly products, you might choose to have green as one of your colors to reflect your commitment to sustainability.
Another benefit of stainless steel business cards is that they're very durable. Unlike paper cards that can easily get damaged or stained, stainless steel cards can withstand wear and tear. This means your cards will last longer, and you won't have to keep replacing them.
How to Design Your 3 Color Stainless Steel Business Cards
Designing your 3 color stainless steel business cards is easy. You can either create your own design using graphic design software or work with a professional designer with our Design Package. When designing your cards, think about what message you want to convey and what colors best represent your brand. You'll also want to include important information, such as your name, business name, and contact information. If you're having a designer you hire create the artwork, or doing them yourselves – be sure to use our Metal Kard Design Template.
Order Your 3 Color Stainless Steel Cards with MetalKards™
If you want to stand out from the crowd and make a memorable impression, consider getting 3 color stainless steel business cards. These cards are not only long-lasting and tough, but they also look sleek and professional. With the ability to add three different colors to your card (or more), you can make an even bolder statement and convey your brand's personality. So why settle for a plain paper business card when you can have a unique and eye-catching stainless steel one?
People

Also Ask:
How much does it cost to make 3 Color Stainless Steel Business Cards

?

How can I design my own metal

business cards?
Are 3 Color Stainless Steel Business Cards worth the money?

Absolutely! We make a fantastic product that really works, and our customer reviews and reorders prove it.
Can Metal Kards design my Winery Estate Business Cards?
https://metalkards.com/wp-content/uploads/2023/03/3-color-stainless-steel-cards-800x600-1.jpg
600
800
kardsmetal
https://metalkards.com/wp-content/uploads/2022/06/logo-horz-mkBanner-Nav03.png
kardsmetal
2023-03-06 08:09:13
2023-04-10 19:18:01
3 Color Stainless Steel Cards