Brushed Copper Business Cards
Brushed Copper Business Cards
Vintage Meets Sophistication with Metal Cards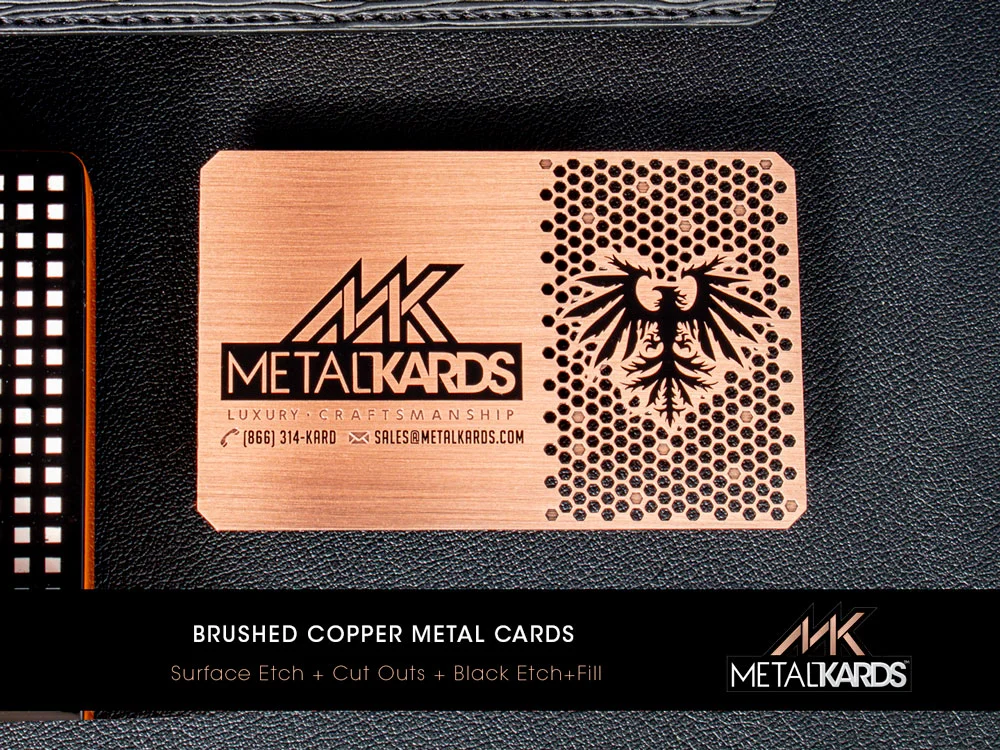 Brushed Copper Metal Business Cards
Featuring Custom Cut Outs, Black Printing and Surface Etching
In a world where networking is key, having a memorable business card can make all the difference. If you're looking for something truly unique and eye-catching, consider brushed copper business cards. In this article, we'll explore the benefits of using these distinctive cards and provide some helpful tips on designing your own.
The Benefits of Using Brushed Copper Business Cards
Copper has long been associated with luxury and sophistication. By choosing brushed copper for your business card material, you instantly elevate your brand image above standard paper or plastic options. Here's why:
Durability: Our Brushed Copper finish, plated over our medical grade 304 Stainless Steel, is a sturdy metal that will withstand wear and tear much better than traditional materials.

Elegance: The warm antique tones of brushed copper give off an air of elegance that will leave a lasting impression on anyone who receives your card.

Creativity: With our stainless steel craftsmanship, along with plating in copper colors our technologically advanced machinery allows for intricate designs that can be engraved or embossed on the surface, enamel silkscreen printing, and more – making each card truly one-of-a-kind.

Sustainability: Copper and Stainless Steel are highly recyclable, so by choosing it as your material, you're making an eco-friendly choice.
Tips for Designing Your Own Custom Copper Business Card
If you've decided that brushed copper business cards are the right choice for you, here are some tips to help you design a stunning and memorable card:
Pick a Size
Consider the size of your copper card carefully. A smaller size may be more convenient for carrying around, while a larger size can make a bold statement. The standard business card size is 3.5 x 2 inches, but don't be afraid to get creative and experiment with different dimensions. Our recommendation and preference is credit card size – the global standard for membership cards, gift cards, and of course platinum credit cards. 85mm x 54mm fits most conventional business card holders, but also fits in the credit card slots of all wallets – making it the ideal size of choice.
Your Brushed Copper Metal Cards Artwork
Crafting metal business cards has never been easier. You have the flexibility to design using a vector program or, if you prefer, you can leverage our Design Package and team up with our expert designers. It's crucial to embed essential contact details while reflecting the distinct essence of your brand. Whether you're seeking professional guidance or leaning towards the DIY route, our Metal Kard Design Template is the perfect companion to steer your design journey.
Proof Your Card
Before sending your design off for production, double-check everything. Look out for any spelling or grammatical errors that could tarnish your professional image. Also, ensure that all contact information is correct and up-to-date. We send a digital proof of every project, for your approval before we ever start production of every metal card order.
Stand Out with Copper Metal Cards
If you want to stand out, brushed copper business cards offer superior benefits over traditional paper or plastic options. They exude elegance, durability, and creativity while making an eco-friendly statement. We make beautiful copper business cards, with the most options on the market – and you can even work with our professional in-house design team, ensuring you'll create a truly unique representation of your brand that will leave a lasting impression on potential clients and contacts. Everyone you meet will love your Brushed Copper Business Cards – let us help you reach that success!
Brushed Copper Metal Cards: A Statement of Style
Elegance in Metal for Your Business Cards
In the world of business, first impressions matter, and your business card plays a crucial role in shaping that impression. Brushed copper metal cards are the modern marvel that blends sophistication and practicality into one sleek package. Not convinced yet? Let's dive in.
What Are Brushed Copper Metal Cards?
Our brushed copper metal cards are crafted from stainless steel, we use high quality type 304 that is sturdy and rigid, and then plate it with a hard metal coating with a luxurious brushed copper finish. Unlike traditional paper cards, these metal business cards are durable, striking, and demonstrate a commitment to quality.
Design and Craftsmanship
The design process begins with a solid stainless steel base. We then do our FREE surface etching and cutting – any shape you want, logos, text, inner cut outs – all completely free. The brushed copper finish is then meticulously applied to give the card its unique appearance. We then print our enamel silkscreen onto the card surface and into the etched recessions in a process we call Etch+Fill so the silkscreen inks have great longevity. The result? A metal business card that not only looks impressive but feels substantial.
Customization and Personalization
A brushed copper metal card from MetalKards® allows for unparalleled customization. From printing and etching to creative cutouts, let's explore what sets them apart.
Etching Your Identity
Want to etch your logo, name, or any design? The etching process ensures precision and longevity. We include standard surface etching completely FREE with every order. Your information isn't just printed; it's cut in as a part of the card itself.
Cutouts and Creativity
With the option for cutouts, your brushed copper metal card can take any shape or form you envision. These personalized touches make your card truly unique. We custom cut every card to order, so any rounded corner, any shape, and any logo can be cut out. Also included FREE.
Printing on Copper Cards
We include 1 color of silkscreen printing FREE – our silkscreen ink is specially made for metal, a hard enamel ink that's more like paint on your card surface. With our etch+fill process, we'll etch down your design then lay the ink inside the recession for ultra durable printing. Want your photo on your cards? We can also print in Full Color / CMYK with UV Process inks for amazing detail.
Variable Numbering and Names include QR Codes
When you want to get really custom, we can add variable printing and laser etching – we can have custom numbering on your cards, different names for staff or members – even QR codes that are all the same, or different on every card.
Elevate Your Professional Presence
Brushed copper metal cards are not just a trend; they are a statement of professionalism, quality, and uniqueness. They elevate your brand and showcase your commitment to excellence.
If you're ready to stand out and make a lasting impression, brushed copper metal cards are your key to unlocking new opportunities in the world of business. The future of networking is here, and it's shining in brushed copper.
Want to get your own custom Copper Metal Cards?
Easily build in our cart – Order Brushed Copper Metal Cards.

Frequently Asked Questions (F.A.Q.)
Answers for Brushed Copper Business Cards
Brushed Copper Business Cards are your ticket to unique, premium cards.
Get the best in business, today.
– the most FREE options included
– in-house professional design team
– Fast shipping from Denver, CO
Order Copper Cards
The Perfect Solution for Metallic Cards
FREE Custom Shape & Cut-Outs

FREE Plastic Protector Sleeve on Every Card
https://metalkards.com/wp-content/uploads/brushed-copper-business-card-800x600px.jpg
600
800
kardsmetal
https://metalkards.com/wp-content/uploads/2022/06/logo-horz-mkBanner-Nav03.png
kardsmetal
2023-08-07 08:31:00
2023-08-07 09:08:14
Brushed Copper Business Cards