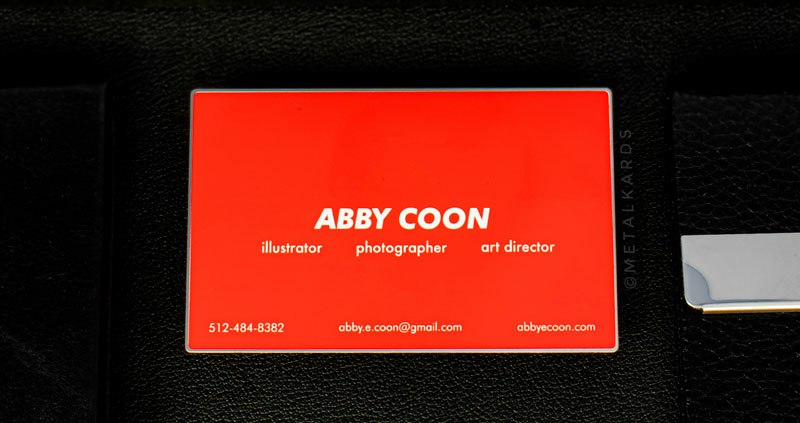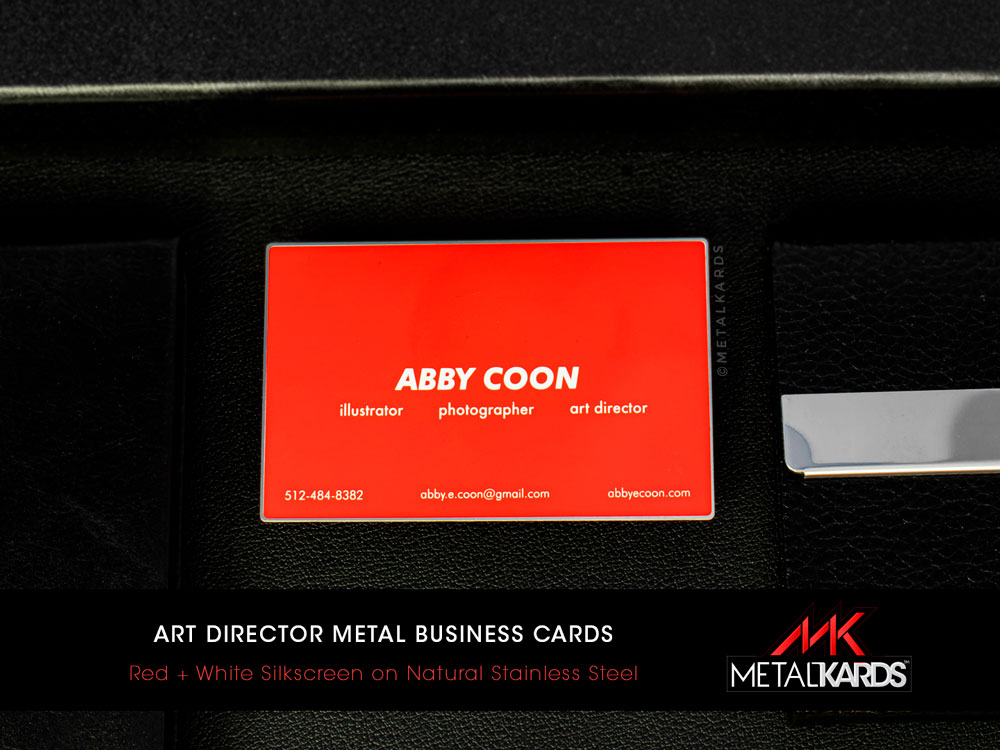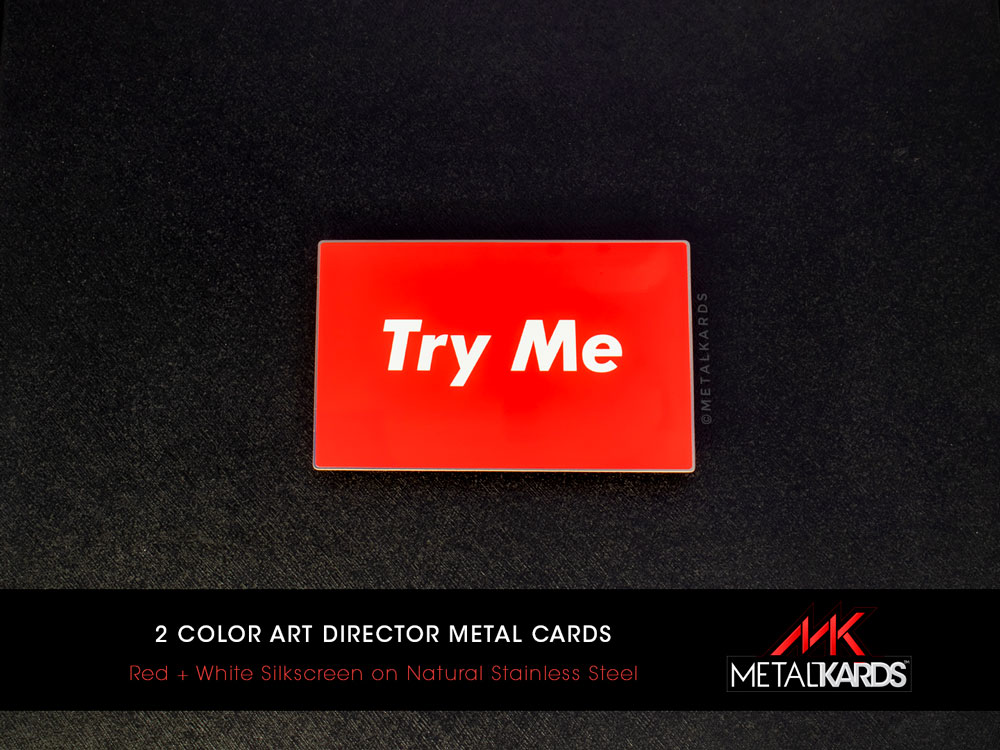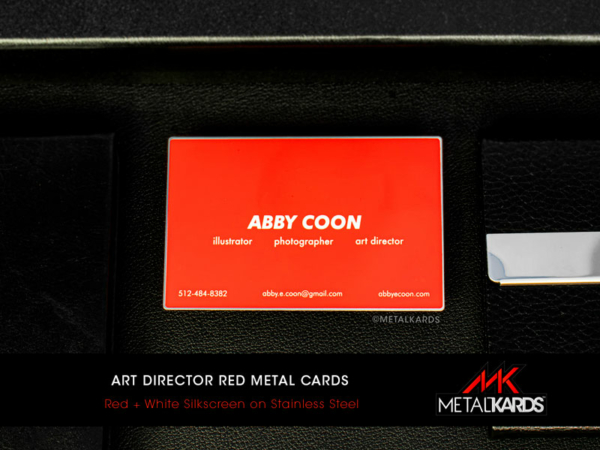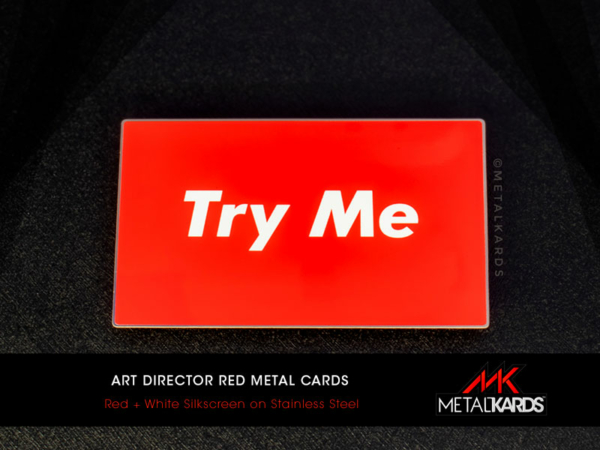 Art Director Metal Cards
Featuring Custom Red and White Silkscreen
Stand Out with 2 Color Metal Business Cards for Art Directors
Looking for an exceptional way to express your creativity or establish your artistic brand? Metal Business Cards for Art Directors and Graphic Designers are a stylish and robust solution. Their resilience and polished look make them a clear choice for the tastemakers in the art industry.
Why Metal Business Cards?
Constructed from stainless steel, these business cards embody longevity, resistance to corrosion, and overall robustness. Owing to their thickness and heavy weight, these cards easily outshine regular paper cards. Create a lasting impression whether used as membership cards, VIP cards, metal gift cards, or more!
What are 2 Color Metal Cards?
Metal cards naturally exhibit a silver hue due to their stainless steel composition. However, we employ a high-quality enamel silkscreen ink to apply any color of your choice, closely adhering to your company or brand aesthetics, including the precise match through the Pantone® Matching System or PMS. 2 Color cards imply that you can have a card with a silver base, complemented by two other accent colors of your choice in screenprint ink. We even offer metallic inks such as gold, copper, and silver to bring your designs to life!
What is Surface Etching and Deep Etching?
Our craftsmanship shines through in our FREE offerings of standard etching, cutting, and one silkscreen color with every order. To further enhance the effect, we offer processes like deep etching. Surface etching is a chemical engraving process that etches into approximately 10% of the card surface, giving it a unique stainless steel look. Deep cut etching goes deeper into the card, approximately 50% depth, for a distinctive and unmissable statement. Both these processes differ from laser etching, which merely marks the surface without creating any depth.
What is Etch+Fill Printing?
Our Etch+Fill printing technique combines standard surface etching with silkscreen color inlay. This not only ensures long-lasting and reliable printing but also creates a tangible depth. However, please note that with this technique, we can only etch+fill one color at a time. For multiple colors, a safety margin gap is necessary to prevent ink bleeding into the recessed areas.
Why Choose our Art Director Metal Cards?
Incorporating a rich, solid background color enhances its aesthetic appeal and memorability. In this example, we turned natural matte silver stainless steel to a bolt PMS 185 Red card. This provides an opportunity to echo your brand's persona and its core messages. We can create nearly any color under the sun. For instance, if your work embodies eco-friendly ethos, a shade of green could accentuate this commitment.
Additionally, stainless steel business cards are far more durable than their paper counterparts, ensuring longevity and resistance to wear and tear. You save on time and resources spent on frequent replacements.
Designing Your Own Art Director Metal Business Cards
Designing Metal Business Cards is a straightforward process. You can either design them yourself using a vector design program, or simply order our Design Package and collaborate with professional designers. Remember to incorporate your vital contact information and unique identity during the design phase. If you're hiring a designer or taking the DIY route, our Metal Kard Design Template can be a helpful tool.
Order Your Art Director Metal Cards with MetalKards™
If you're an art director, creative director, or graphic designer looking to distinguish yourself in a sea of creatives, metal business cards are your answer. Not only are they resilient and sleek, but they also offer an avenue to showcase your unique artistic identity through color and design. Why settle for a conventional paper business card when you can opt for an unforgettable, shiny, Genuine Metal Kard?
A Must-Have Tool for Your Art Director and Creative Director Role
Art Director and Creative Director business cards are a crucial marketing instrument for any creative professional aiming to establish their brand and attract new clients. By adhering to a minimalist design philosophy and utilizing premium materials, you can create an exceptionally memorable metal business card. Including all the relevant information, your business card becomes a means to make a lasting first impression. Let us craft your Art Director and Creative Director business cards today and take the first stride towards expanding your creative endeavors.
What Should You Include in Creative Professional's Promotional Products
Branding: A business card's primary purpose is to help establish your professional brand. Consistent color schemes, typography, and design elements across all your marketing paraphernalia are crucial. Your business card should mirror the persona and principles of your role as an Art or Creative Director and assist clients in remembering your brand.
Unique Selling Proposition: Your business card should communicate your unique selling proposition (USP). This could be a unique creative approach, an innovative design methodology, or a commitment to cutting-edge aesthetics. Whatever it may be, ensure it is the highlight of your business card.
Contact Information: Ensure your contact information is up-to-date and easily accessible on your business card. Incorporate your phone number, email address, and portfolio website, along with any pertinent social media handles. You might also want to consider including a QR code that directs to your website or social media profiles for added convenience.
Images and Graphics: While the design of your business card should remain simple and legible, incorporating graphics and images can elevate its appeal. Think about using photos or graphics that are relevant to your profession, such as your designs or artwork.
Size and Shape: While most business cards are rectangular, experimenting with different sizes and shapes can help your card stand out. With MetalKards™, any shape or rounded corners are included FREE. Custom shapes to represent your creativity or work can be intriguing. For example, square or circular business cards can draw potential clients' attention.
Metal Thickness: When printing your business cards, it's vital to choose a high-quality stainless steel that leaves a lasting impression. Metal Kards uses Genuine Type 304 stainless steel with durable color plated finishes and robust, resilient silkscreen inks. You might want to consider a thicker, more substantial card such as our 0.7mm or 1.0mm options, paired with our brushed finishes.
Final Thoughts for your Creative Metal Cards
A well-crafted Art Director or Creative Director metal card can help you stand out in the competitive creative industry. By effectively communicating your unique selling proposition to potential clients and establishing your brand, you're well on your way to forging strong professional relationships. Keep these tips in mind, and create a card that is both informative and memorable, setting the stage for successful creative partnerships.
Want to get your own custom Art Director Metal Cards?
Easily build in our cart – Order Silver Metal Cards.
Frequently Asked Questions (F.A.Q.)
Art Director Metal Card Answers
Stainless Steel Cards are the perfect solution for your Creative Agency.
Get the best quality, today.
– the most FREE options included
– in-house professional design team
– Fast shipping from Denver, CO
Order Stainless Steel Cards
The Perfect Solution for Art Directors
FREE Custom Shape & Cut-Outs

FREE Plastic Protector Sleeve on Every Card
https://metalkards.com/wp-content/uploads/art-director-metal-business-card-800x600-1.jpg
600
800
kardsmetal
https://metalkards.com/wp-content/uploads/2022/06/logo-horz-mkBanner-Nav03.png
kardsmetal
2023-06-25 22:56:58
2023-07-30 08:35:21
Art Director Metal Cards