Stainless Steel Remax Metal Business Cards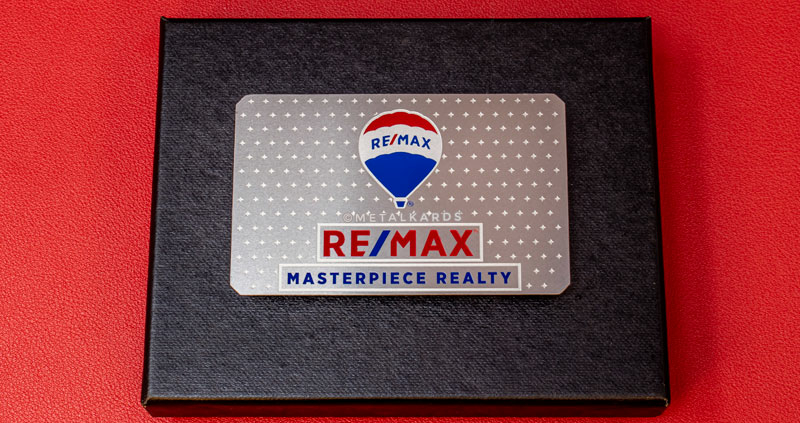 Stainless Steel Remax Metal Business Cards
Natural Stainless Steel with our Premium Standard Etching, Red & Blue Silkscreen Etch+Fill and unique custom cut shape.
Want to get your own Stainless Steel Remax Metal Business Cards on Matte Silver Metal Cards? Easily build in our cart – Order Real Estate Metal Cards.
Stainless steel is a great material for business cards due to its durability and modern appearance. Our Remax Metal business cards made of stainless steel are an innovative solution for people looking to make a lasting impression with their business contacts.
What are my Remax® Metal Business Cards made of?
These business cards are made of high-quality, type 304 stainless steel and are designed to be impressive – light enough to carry, but heavy enough to take notice. They are resistant to wear and tear and can withstand daily use without showing signs of damage. The cards are also water and rust resistant, making them a great option for any type of weather or conditions your card requires. A hurricane can hit our cards and they'll still be selling you houses.
Stainless Steel Metal Business Cards Make You Stand Out
The Stainless Steel Remax Metal business cards have a sleek and professional appearance that can help you stand out from the crowd – this is just one design we can do of any imagination. They are available in various finishes, including matte, polished, and brushed, to match your personal style and brand image. You can also have your business information and logos printed on the cards, adding a personal touch to your professional image if you run any other real estate company.
In addition to their practicality, Remax Metal business cards are also eco-friendly. Unlike traditional paper business cards, they are reusable and can be passed on to others, reducing waste. Furthermore, they are made of recyclable materials, making them an environmentally responsible choice. If you need real estate metal business cards, we're the company for you!
Why Remax™ Metal Business Cards?
Overall, Remax Metal business cards are an excellent investment for professionals looking to elevate their personal brand. They are durable, stylish, and eco-friendly, making them a great choice for anyone looking to make a lasting impression. Whether you're a business owner, real estate agent or real estate broker, or employee, these business cards are a great way to promote your brand and connect with others.
Custom Metal Business Cards are the Perfect Solution
Stainless Steel Remax Metal Business Cards are a unique and practical solution for professionals – especially in an upscale market. While paper cards are still great to "leave on the table" at any showing, a metal card is a personal collectors piece to prove "the person you just met is worth the time and cost of this high quality card". With their durability, style, and eco-friendliness, they are a smart investment for anyone looking to enhance their personal brand.
This article features materials protected by the Fair Use guidelines of Section 107 of the Copyright Act. All rights reserved to the copyright owners.
https://metalkards.com/wp-content/uploads/remax-masterpiece-metal-business-cards-800x600-1.jpg
600
800
kardsmetal
https://metalkards.com/wp-content/uploads/2022/06/logo-horz-mkBanner-Nav03.png
kardsmetal
2022-12-19 06:54:56
2023-09-02 22:11:30
Stainless Steel Remax Metal Business Cards