Deep Etch Brushed Silver Card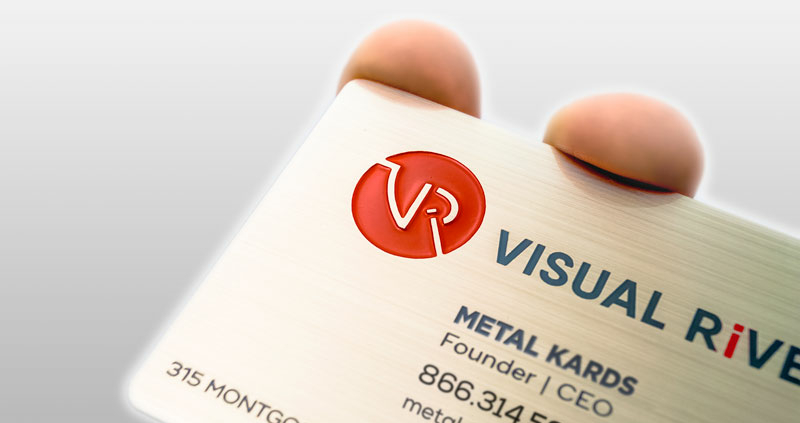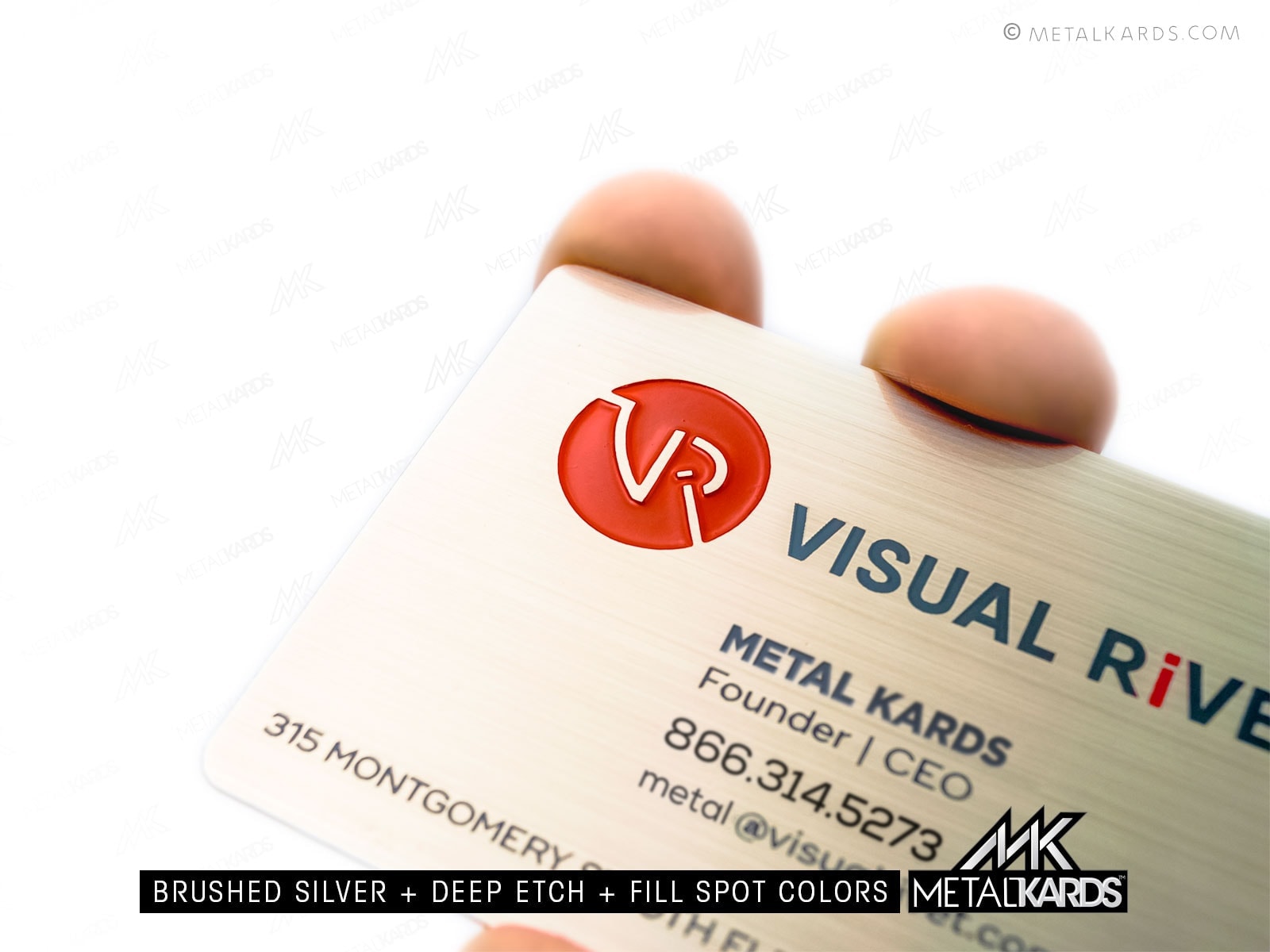 Deep Etch Brushed Silver Card
Featuring Deep Etch + Fill Red Silkscreen and Dark Gray Silkscreen.
Have you ever received a business card that impressed you with its unique design and high-quality material? If you're looking for a sophisticated and modern option, consider the deep etch brushed silver card.
Here we have a Brushed Silver card with Deep Etch and Spot Color Fill. We have combined the rugged look of Brushed Stainless Steel with our Deep Etching technique on the logo, to really bring out the company's name and logo. We then filled the deep etching with durable red silkscreen to match the company's color scheme. In addition to our Deep Etch and Fill, we used Standard Etching to add their contact information and address in red and gray.
What is Etch+Fill Printing on Brushed Silver Cards?
Our Etch+Fill technique makes a long lasting and very resilient design. It will hold up wonderfully over time and also looks magnificent. All of our metal business cards with this craftsmanship feature a "deboss" look from the etching – to really make your cards stand apart from anyone else.
How to Make Deep Etch Brushed Silver Cards
Looking to make your logo or company name really 'POP' on a stainless steel metal card? Try engraving your business card using our Standard or Deep etching process – both come out looking very distinct and unique. While our Standard Etching cuts 10% into the card, our Deep Etching will cut 50% into the card adding a luxurious look and feel to it. The thicker the card, the better it looks so we do recommend our 0.7mm or 1.0mm with Deep Etching. Upgrade from your run of the mill paper cards and get Brushed Silver Metal Business Cards that will not only look great, but will last a lot longer in your client's hands.
If you are interested in getting Brushed Silver metal cards, feel free to reach out to us or order our Artwork Design Package and have one of our in-house designers create your dream card.
Why Deep Etch Brushed Silver Cards?
Deep Etch Brushed Silver Cards are a crucial element in today's business world. Not only do they help you showcase your brand, but they also make a lasting impact on potential clients. Here are some compelling reasons why you should consider investing in Deep Etch Brushed Silver Cards:
Make a Strong First Impression
Your Deep Etch Brushed Silver Card is often the first point of contact between your brand and a potential customer. So, it's important to make sure it looks professional and represents your company values. A well-designed Deep Etch Brushed Silver Card can make a memorable first impression, which can establish trust and credibility with your audience.
Essential Tool for Networking
Deep Etch Brushed Silver Cards are an essential tool for expanding your professional network and building relationships. They make it easy for you to exchange contact information with others and provide a convenient way to follow up after a meeting or event.
Cost-Effective Marketing Solution
Deep Etch Brushed Silver Cards are a cost-effective marketing tool that can be an efficient way to promote your brand and reach new customers. They are portable, which makes it easy for you to carry them with you wherever you go and distribute them whenever an opportunity arises.
Increase Brand Awareness
Your Deep Etch Brushed Silver Card serves as an extension of your brand and can help increase brand recognition. By featuring your company logo, tagline, and contact information, you can make it easier for potential customers to remember your company.
Convey Professionalism
A well-designed Deep Etch Brushed Silver Card conveys a professional image and demonstrates your commitment to your business. It sets you apart from your competitors and shows that you take your business seriously.
We Make the Best Deep Etch Brushed Silver Card
In conclusion, Deep Etch Brushed Silver Cards are a simple but effective solution for promoting your brand, networking, and making a lasting impression on potential customers. They offer a cost-effective marketing solution that can increase brand recognition and convey professionalism. If you don't have Deep Etch Brushed Silver Cards yet, now is the time to invest in high-quality ones.
Want to get your logo on Brushed Silver Metal Cards? Easily build in our cart – Order Brushed Silver Cards.
https://metalkards.com/wp-content/uploads/deep-etch-brushed-silver-card-800x600-1.jpg
600
800
kardsmetal
https://metalkards.com/wp-content/uploads/2022/06/logo-horz-mkBanner-Nav03.png
kardsmetal
2022-12-15 16:29:43
2023-07-11 23:44:46
Deep Etch Brushed Silver Card